As you guys know, I'm turning over the "artist of the week" reigns to Tequila Cowboy. Penny Lane's thread on Strand of Oaks last week was supposed to be the end of the run. But one day last week I happened to be rocking out on my iPod to a tune called Loose by Ray Wylie Hubbard, and I had an epiphany:
AOTW cannot die without a thread on Ray Wylie.
3DD's resident Ray Wylie expert is 4sooner. Rick agreed to get a thread up on short notice but unfortunately he had some technical diffulties yesterday. So I'm gonna get it started here on my lunch hour and 4sooner has promised to add some insights, cool stories, vids, etc during the week.
For those of you who don't know Ray Wylie, he's kind of an elder statesman of the Americana and Texas music scenes. He plays a mean guitar - all bluesy and greasy. He's also a helluva songwriter. Here are some RWH links:
Ray's website (which is run by his wife Judy):
http://raywylie.com/
A Truer Sound has a TON of good Ray Wylie stuff. Live shows, old studio stuff, vids, discussions about lyrics, show reviews etc. Here's everything they've got with a Ray Wylie tag:
http://atruersound.com/?tag=ray-wylie-hubbard
They've also got a post with an excellent Ray Wylie sampler from a couple years ago. The post is here:
http://atruersound.com/?p=102
and the sampler is here:
http://depositfiles.com/files/clcgldevh
Just for kicks, one of my favorite ATS posts about Ray Wylie is from a year or two ago where they posted a Youtube that shows the "proper" way for a woman to dance to the song Snake Farm:
Here are my favorite Ray Wylie songs (inpo):
Loose
Ballad of the Crimson Kings
Snake Farm
Three Days Straight
Rock and Roll is a Vicious Game
A cool thing about Ray Wylie is that he's always associated with 3DD royalty: he's got a great cover of McMurtry's Choctaw Bingo, he cowrote Drunken Poet's Dream with Hayes Carll, he hangs with Willie, he played with Blaze Foley (who was immortalized in Lucinda Williams' song Drunken Angel) and he started his career writing and playing with Jerry Jeff Walker. He's even played shows with Guy Clark and TVZ (read the write up and download the bootleg here:
http://atruersound.com/?p=273
). So in case you're still not sure... Ray Wylie Hubbard is the real deal.
Also... Ray Wylie doesn't just sound badass, he looks it too: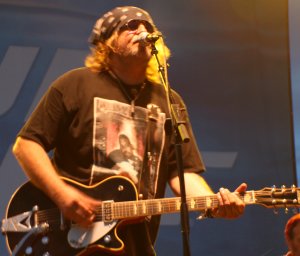 I'll leave you with one thing about Ray Wylie that pisses me off: he rarely tours outside of Texas and hardly ever up here in the northeast.